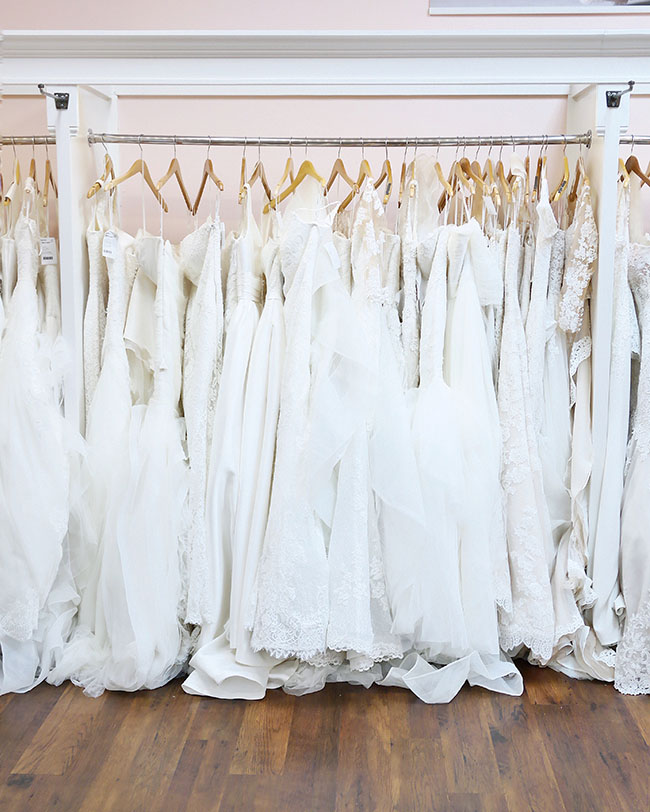 It's no secret that wedding planning is in full force over in the Bliss household. Yes, yes – for those of you wondering, I am lucky enough to marry into the "Bliss" family last name. (Wedding hashtag recommendations are much appreciated!)
If you're following me on Instagram, you probably already know that I said YES TO THE DRESS a few weekends ago. Holy moly. I honestly can't even believe it!
After jumping head first into the wedding dress selection process, I wanted to share a few tidbits of information I learned along the way with you!
1. Stay open-minded.
This one is so important. Allow your stylist at the salon our boutique to make recommendations for you – chances are he/she knows what will look best on you based off of height and body figure. Don't eliminate anything at first glance!
2. Remember that wedding dress sizes do not run true-to-size!
If you wear a size 6 in dresses, don't be alarmed when the stylist brings out a size 10. After the slight heart-attack that may occur, just remember that wedding dresses usually run 2 sizes bigger than your average dress you have hanging in your closet.
3. Avoid the entourage.
I highly recommend keeping your attendees to a limited number. I know it's totally normal to want to invite your entire wedding party, your aunt, your grandma, your neighbor's sister-in-law, etc… – but seriously, steer clear of this. Keep your party small (2-3) where you can think for yourself and trust your instincts. After all, the decision is yours to make!
4. Know your budget.
Girl – wedding dresses can cost an arm and a leg plus some. Have a hard number or a price range in mind that you are comfortable spending and voice your budget before the fitting begins. Ensure your stylist is aware of your budget so they can pick the best options for you and your bank account.
5. Think on it.
For me personally, this piece was vital. I went back and forth between two dresses for over an hour trying to decide which one I loved more. My mom, sister and I decided to leave the boutique for an hour to grab lunch so I could think on it. Once I came back to the boutique, I tried both dresses on one more time and it was apparent which one I loved more. The time away from the dressing room can be so important and allows you to breath and understand what you're truly looking for.
I hope these tips come in handy for you now or in the future! Choosing a wedding dress is such a significant and memorable time in your life – and it should be enjoyed!
I hope you're having a great day! xo