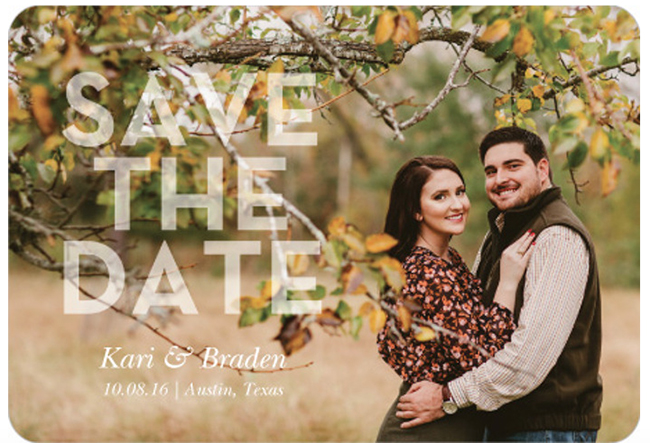 One of the most rewarding aspects of wedding planning is seeing your vision turn into a reality. I mean don't get me wrong, it definitely requires some intense planning and organization, but each task you get to mark off your to-do list is getting you that much closer to seeing everything fall into place for the big day. One of the things I was most excited about was choosing our wedding stationery!
Anyone else love, love, love paper goods? 
Choosing the perfect Save the Date was not only an exciting milestone in our wedding planning process, but it really helped set the tone of the overall aesthetics of our big day to our guests. With Braden originally growing up in Amarillo, Texas and myself being from Austin, it made sense for us to incorporate our two upbringings into one event-filled and joyous evening! Braden obviously bringing the country look and feel to the big day, and myself adding that extra bit of glam to balance the two out.
We are focusing on are infusing a whimsical touch into our country-chic themed wedding. *Think bright whites, subtle greenery, touches of distressed wood and outdoor string lights. #bliss
Alongside of deciding on floral arrangements and seating charts, we proactively set out and searched for a company that could provide us with the perfect Save the Dates and Wedding Invitations. We wanted to ensure our wedding stationery was a direct reflection of us as a couple and that it was a quality and durable product. Working in the creative industry – I can say first-hand that not all printing is created equal…. 
After jumping around from website to website, we stumbled across Wedding Paper Divas and immediately knew that they could provide us with everything we were looking for and more!
We opted for a simplified Save the Date where the photo could really be the hero. Since a Save the Date is basically just a calendar marker, we were able to have a little more freedom and creativity when choosing the perfect print. We also wanted to take into consideration that this piece would more than likely be hanging on refrigerators for months to come, so we didn't want anything too busy or too overwhelming.
One of the things I loved most about working with Wedding Paper Divas was the ability to customize your print with a design specialist. Braden and I decided we wanted to move forward with the magnet option of "Clearly in Love", but we wanted to remove the gradient fog filter that comes with the original design. We were able to give our feedback and work closely with the designer to get it exactly how we wanted within a 24 hour time-frame!
Needless to say, our Save the Dates turned out beautifully and we are so excited to get moving on the Wedding Invitations. The reality of it all is finally starting to sink in, y'all! And all I have to say is keep. the. coffee. coming.
What do you love most about creating or receiving wedding stationery?
And on a very serious note, thank you for coming along with me on this very exciting time in my life! Be sure to stay tuned to see which stationary we pick for our Wedding Invitations, coming soon! xo
Save the Dates via Wedding Paper Divas (c/0)