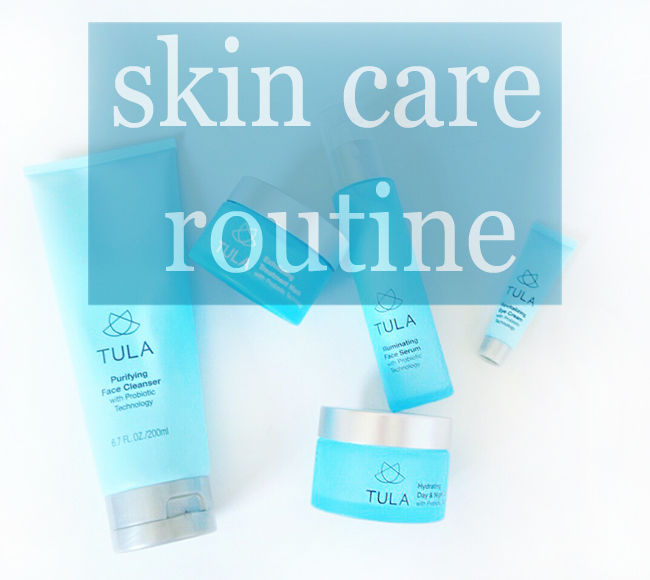 Purifying Face Cleanser (c/0) | Exfoliating Treatment Mask (c/o) | Illuminating Face Serum (c/o) | Hydrating Day & Night Cream (c/o) | Revitalizing Eye Cream (c/o)
If you've been following me on Snapchat, then you know that recently each weekend means a new destination. Whether it's a quick weekend trip to Austin to finalize wedding details or to a work conference in NYC, I've been going, going, going!
Now of course, I love nothing more than jumping around from city to city, but unfortunately my skin and I disagree on that matter. Lack of sleep, non-paleo dining options and on and off airplanes aren't the best combination for my super sensitive skin.
A thorough skin care regimen has always played a huge role in my day-to-day routine, but now more than ever. I've struggled with blemishes since my teenage years and to be honest, the recent wedding-planning-stress hasn't been the kindest to my skin. With a busy schedule, taking care of my skin is definitely a top priority.
I'm typically always hesitant to try new skin care products, but after tons of trial and error, I think I've found my perfect summer skincare routine! (cue church bells: hallelujah)
1. Remove all face makeup with my favorite Makeup Remover Cleansing Towelettes
2. Ensure all makeup is removed and pores are thoroughly cleansed with a Purifying Face Cleanser
3. Apply an Exfoliating Treatment Mask 2-3 times per week for 10 minutes to remove any old, dead skin cells
4. Add a dime-sized amount of the Illuminating Face Serum to help achieve a luminous radiance
5. Ensure your skin is fully prepped and hydrated with the Hydrating Day & Night Cream or the Glamglow Hydrating Treatment
6. Finish off with a Revitalizing Eye Cream to minimize any under-eye puffiness or fine lines
If any of you have been struggling with your skin recently, I've been there and done that! I totally understand the annoyance (understatement) and I definitely know that with thousands of products to choose from, it's overwhelming to find products that are suitable for you and your skin. TULA's probiotic technology has been a complete game changer for me and I've truly noticed a difference in my skin. If you're feeling like you just can't find that perfect regimen to get your skin to where you want it, please feel free to shoot me an email. I'm definitely no expert or dermatologist, but I guarantee I've been where you are!
Also – I know I mention TULA numerous times in this post, but this is in no way sponsored! I honestly just love their products and highly recommend it to anyone. All opinions are my own.
Now…on to other very exciting news! One of the biggest sales of the year is around the corner and I want you to be ready for it! Enter below up to 101 times for a chance to win a $1225 gift card to Nordstrom just in time for the big Nordstrom Anniversary Sale! Complete 1 entry, or 101 entries, but the more times you enter the better chance you will have!
*Giveaway ends on 7/13 and winner will be announced on 7/14 (the first day of the Nordstrom Anniversary Sale.) Must be 16+ years older to enter. International entrants welcome. Please keep in mind that you can not complete more than 101 entries, and that we can tell if the same person uses multiple emails to enter. ALL ENTRIES WILL BE VERIFIED, so make sure to hit 'FOLLOW' or 'LIKE' to complete each entry.
Gift Card Giveaway- Nordstrom Anniversary Sale

Shop the Post