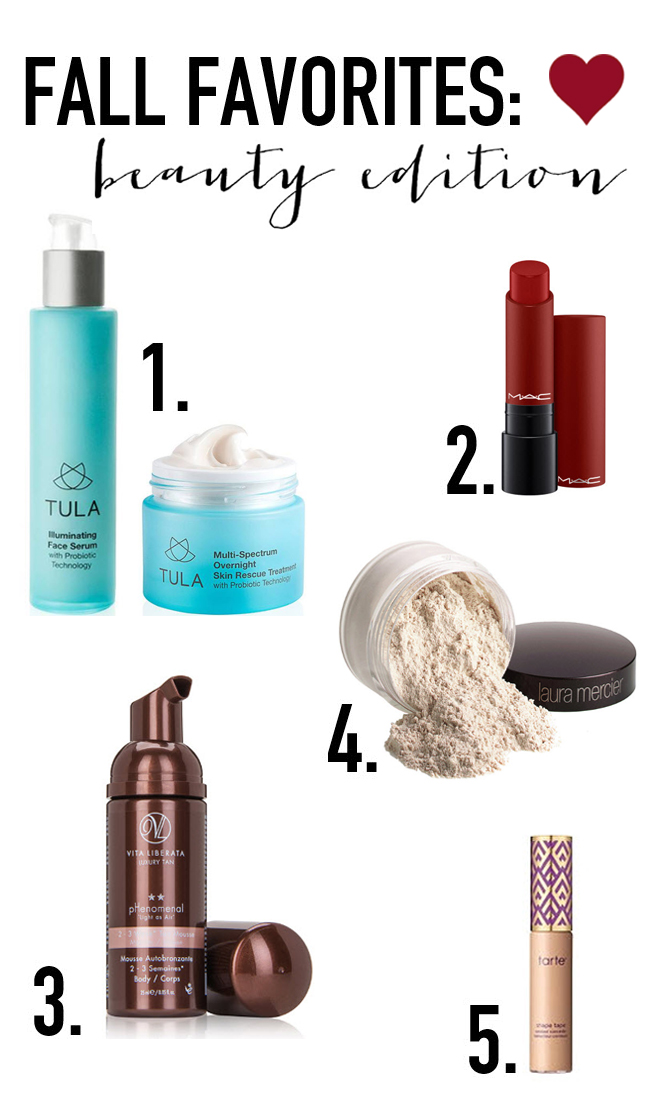 A new season means new beauty favorites, and now that the weather is finally starting to cool down here in Dallas, I figured it would be an appropriate time to share my current 5 favorite beauty products! There's a little bit of everything, so I hope you enjoy.
What are some of your favorite Fall beauty products? Leave them in the comments below!
xo
1. TULA Illuminating Face Serum and Multi-Spectrum Overnight Skin Rescue Treatment
You guys, these two magic potions have been rocking my world lately. I use the Face Serum every morning under my moisturizer before applying makeup and my foundation seems to be applying smoother and staying on longer. It absorbs so quickly and doesn't leave an oily residue like some serums can. I highly recommend this hydrating serum for anyone looking to add a little "oomph" to their day-to-day makeup look!
Oh boy, and don't even get me started on the Overnight Skin Treatment. SERIOUSLY y'all, this may be my favorite skincare product I've ever used. It works with your skin's natural nightly repair process to reinvigorate skin overnight. You'll wake to softer, plumper, youthfully hydrated skin. Every morning I wake up and my skin feels like it took a huge gulp of water while I was sleeping without clogging my pores. It's a total game changer.
Ever since MAC launched their new Liptensity line in September, I have been giving the cold shoulder to my lipstick drawer. The consistency and pigmentation is unreal and I typically can wear my morning lip all day without touchups. It's estimated that each application can last anywhere from 4-6 hours depending on how active your little lippies are. I've been constantly reaching for a deep magenta pink called Marsala that's perfect for Fall.
3. Vita Liberta pHenominal Tan Mousse
I'm always a little hesitant to try self tanners since I'm so fair-skinned, but the pHenomenal Tan Mouse from Vita Liberta totally worked it's magic on me. I definitely did my research before applying because I have an irrational fear of looking orange, but the solid 4 star rating on Sephora is very well-deserved! There isn't an odor, the color doesn't transfer onto bedding or clothes and I didn't experience any streaking. I ended up with a natural looking, medium sun-kissed glow that lasted for almost two weeks. If you're into self-tanning, I would for sure give this one a shot!
4. Laura Mercier Translucent Loose Setting Powder
Okay, no surprise here. I've been using this setting powder for the last year or so and love it just as much as I did when I first purchased it. I included it in my Fall favorites because it will be perfect for any of you ladies with dry skin during the cooler months. It contains the finest French cashmere talc, which results in a sheer, silky powder that looks and feels natural on the skin. This one will for sure be a favorite of mine forever!
5. Tarte Double Duty Beauty Shape Tape Concealer
All I have to say is if you can get your hands on this concealer, purchase it immediately. It's flying off the shelves and for good reason. It's hydrating, but doesn't crease. And it's full coverage, but doesn't clog pores. So basically, it's a unicorn concealer and you need to try it. #obsessed