After Braden and I returned back from our honeymoon in October of last year, the wanderlust immediately set in. We wanted to experience new cultures, try different cuisines and explore places we'd never imagined.
I think it's also safe to say that Switzerland is one of the most serene, beautiful and friendliest places in the world. So starting our married life together in such a magnificent country was more than we could've ever asked for. Since then, we've been constantly chatting about where our next adventure will take us.
It's funny because once you're married the immediate question everyone asks is, "When are you having kids??". Right now, we always answer with "5-7 years" because we definitely want to travel and enjoy married life with just the two of us. So, we took our answer and turned it into action — our seven year travel plan! ✈️ 
While we are very aware that these are extravagant trips, it's right where we want to be in our life. Our 2017 trip to Vermont will fall on our 1-year wedding anniversary and our 2021 trip will be a celebration of our 5-year wedding anniversary, so we'll definitely be celebrating each trip in a special way. Eek!
"Traveling is the only thing you buy that makes you richer."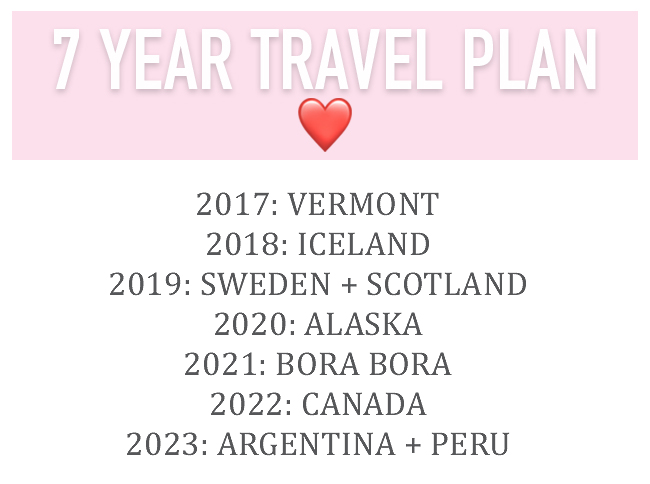 This travel plan gets me so so excited and I couldn't wait to share it with you guys! Do you have a specific travel plan and/or a bucket list of places you want to go? Please leave them in the comments below, I would love to hear! x