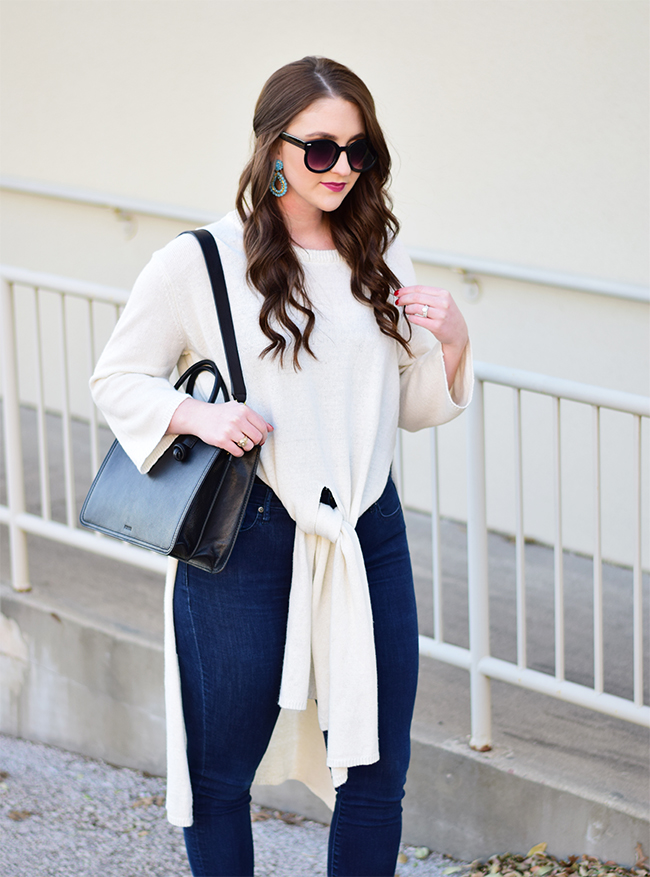 It's been a minute since I've posted my Friday Favorites, but I figured with a New Year and a new month (Hello, February!) it would only be appropriate to share 5 of my favorite things! These are things that I've been loving for the last couple of weeks and feel completely confident recommending to you.
1. Pour Moi Beauty Black Serum
I was introduced to Pour Moi Beauty at the end of 2017 and have been really impressed with all of the products that I've tried so far. I've especially loved the Desert Day Cream, but my all-time favorite is the Black Serum! The serum is light to the touch and melts deep into the skin. It's highly concentrated with restoring, hydrating, and brightening actives, which deliver maximum beauty, hydration, youthfulness, and all-over glow. I've loved adding it to my skin-care routine and seeing the instant results that it gives me prior to applying my makeup!
2. Estee Lauder Advanced Night Repair Eye Concentrate
Another skin care product, I know I know. But you guys, this is the best eye serum I have ever used! It's extremely hydrating (which I always look for in an eye cream) and significantly reduces my early-morning puffy eye situation and fine lines. I'm honestly obsessed.
I've always been indifferent about statement earrings, but I've been so into them lately! My go-to brand is Lisi Lerch because everything she sells is so feminine and compliments any outfit. I've been wearing her pieces since before Thanksgiving, so I'm sure you've seen me wearing them a time or two! 😉
There's not much to say other than I basically live in this brand during the day. The material legitimately feels like a second skin and sucks you in at all the right places. It's the perfect loungewear, but also amazing for what it's intended for — working out. I've been wearing their pieces to my Orange Theory classes and love the support it gives and how it wicks my sweat away (…so cute).
5. YouTube
Drum roll, please….!
After years of contemplation, I have finally created a YouTube channel covering all things beauty related — makeup and hair tutorials, skincare regimen, FAQs, etc.! And while I certainly am no YouTube expert, I look forward to learning more about video creation and editing software. Please feel free to check out my two initial videos and subscribe…if you want!
———————————————————————————————————
What are 5 things that you've been loving lately? Please feel free to leave them in the comments below! xx
Sweater: Willie & Flo's Boutique (mention my name for 20% off your purchase!) || Denim: Nordstrom || Earrings: Lisi Lerch || Bag: Fossil || Sunglasses: Amazon Fashion || Lipstick: Tea Rose
Shop the Post